DEPARTMENT MISSION
"To Protect and To Serve; A Community Commitment"
The Cramerton Police Department's motto, "To Protect and To Serve; A Community Commitment", states the essential mission of the department. The department protects the rights of all persons, within its' jurisdiction to be free from criminal attack, to be secure in their possessions and to live in peace. The department serves the people of Cramerton by performing law enforcement functions in a professional manner, as it is to the people of the Town that the department is ultimately responsible.
The Cramerton Police Department has operated under a philosophy of community policing since its inception in 1967, before the term "community oriented policing" was coined. With this in mind, and recognizing that the solutions we relied upon yesterday may no longer be effective tomorrow, the department is committed to continually re-defining policing within a smaller community. The methods we use to combat criminal activity and solve problems must evolve to reflect the changing nature of our community. The partnerships we have developed within the community are an important part of this process. Internally we have been working toward collaborative decision making. We are learning to rely upon opinions and information from personnel at all levels of the department. We want to extend that effort to include community members in our decision-making processes.
Accomplishing these ideals will require re-defining the roles of every member of the department. We will need to be more effective and efficient, both individually, and organizationally. As we become more capable we will be better able to rapidly assess changing conditions, and to react to the many changes without crisis. We can take risks, because the consequences will be manageable.
We enjoy a quality of life in Cramerton of which many communities only dream. The time we spend with our families, friends and coworkers are the important moments in our lives, and are a result of the efforts each of us invests in our community.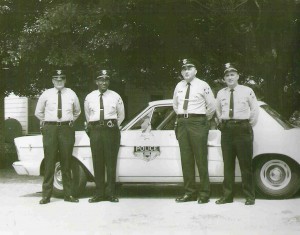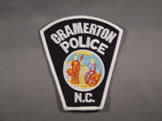 Department's first shoulder insignia. Circa 1967
PHOTOS
"Below you will find photos of our vehicles, officers at work, training exercises, and our community.
These are for information only and may not be reproduced, used, or altered in anyway.
(C) Copyright 2015 Cramerton Police Department."